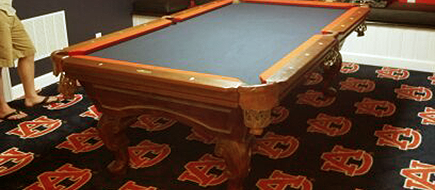 Want to match your decor or show your devotion to your favorite sports team?
Whether your desire is simply for aesthetics—or whether you need to fly the colors of your alma mater—our custom two-tone pool table felting has become a hugely popular request.
With this process, Professional Billiards of Atlanta will felt the pool table one color and the rails a different color, resulting in a look that is completely unique.
Take a look at just a few examples…
*Click on any image to zoom and view a slideshow of the images